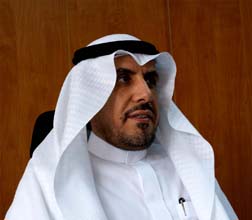 Fahad I. Addamegh
President
Addamegh Group is built with a young and dynamic inspired team, ready to go further with new western technology and providing to our valued customers the highest standard of service.

We provide the following services:

> Manufacturing
> Engineering
> Design
> Consultancy
> Installation
> Troubleshooting
> Service Trouble Calls
> Open and operate fitness centers for mens and ladies
> Open and operate family recreation centers

Addamegh Group – Committed to Excellence
ADDAMEGH GROUP, operating in the Kingdom of Saudi Arabia, having its base office in Dammam, has been existent since 1989. We have been focusing exclusively on our business interest ranging from Hydraulic and Pneumatic to Complete Compressed Air System and Elevators and Escalators and Railway Industry.
As a responsible, progressive Group with different interest across our field in Saudi Arabia, we are committed to operating at the very highest levels of transparency, compliance and ethical standards – taking a leadership stance when it comes to existing business interest.
We are carrying complete and comprehensive range of products that will enable your business to boom and boost further. We will never compromise on the quality and the services provided to our esteemed customers and we pride ourselves on providing excellent hi-deluxe quality products with world renowned Brand Names and commended customer services.
Our team staffed with professional and qualified Engineers has well been in the caliber of catering to our valued customers resorting to us effectively the complete in-house on time solutions through the wide range of our products on hand.

ADDAMEGH GROUP is recognized in the industrial market as guaranteed, recommended and reliable for its genuine products and services and dedicated firmly to its motto and further to accepted ideals of other advanced corporate with a view to maintaining its fame in the industrial market.


High Quality
Supreme Service
Timely Delivery
After Sales Service